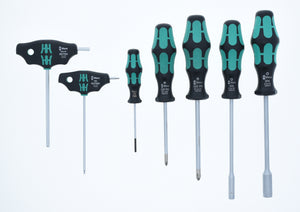 Wera LP12 Basic Tool Kit (NEW)
Regular price £65.00 Sale
Brand new basic set of Wera hand tools to enable the servicing of your LP12.
Consisting of
T-Handle Hexagon 4 : Most tonearm collar locking grub screws & the three collar mounting bolts.
T-Handle Hexagon 2 : Motor & cartridge bolts.
Nutspinner 5.5 : Motor nuts.
Nutspinner 8 : Suspension nuts.
Screwdriver Phillips : Baseboard, cross brace and cable clamp screws.
Screwdriver Phillips : Armboard screws (Phillips only).
Screwdriver Slotted 2.5: Power supply terminal blocks.
Quality tools manufactured by the German Engineering Company Wera. The same company that Linn use to supply the tools, included with their sub chassis and Ekos SE arm.

Please note that we have included the commonly required tools to service the LP12 other tools may be required depending upon the components with your LP12.
The kits come as a set of individual components there is no presentation case.

 If your delivery address is outside the UK, you may be liable for import charges including taxes and customs fees. These charges are not included in the sale price and are usually paid to the shipper before they release the parts for delivery. Please contact your local Customs Office should you require details about the charges you may incur.