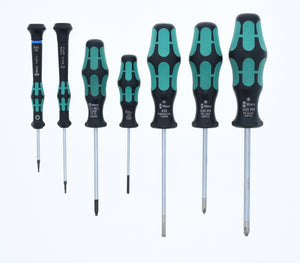 Wera LP12 Screwdriver Set (NEW)
Regular price £45.00 Sale
Brand new  set of Wera Screwdrivers.
Consisting of
Screwdriver Phillips : Baseboard, cross brace and cable clamp screws.
Screwdriver Phillips : Armboard screws (Phillips only).
Screwdriver Slotted 4.0: Levering P-Clip tight.
Screwdriver TORX 10 : Earth Screws on Majik, Kore & Keel subchassis.
Screwdriver Slotted 2.5: Power supply terminal blocks.
Screwdriver HEX 0.050" :  Tonearm Cable Locking grub screw.
Screwdriver HEX 1.5 :  Tonearm Lift Locking grub screw.
Quality tools manufactured by the German Engineering Company Wera. The same company that Linn use to supply the tools, included with their sub chassis and Ekos SE arm.
The set come as a set of individual components there is no presentation case.